Comprehensive Oral Examinations Near You
Your mouth is a window to your overall health. A comprehensive examination can detect medical conditions before any symptoms arise.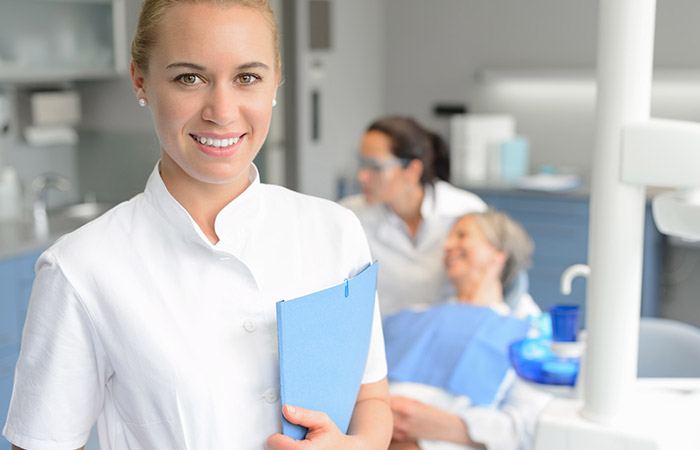 What to Expect
Your comprehensive examination in Red Deer, AB T4N 3S8 will consist of a complete physical checkup from the neck up. Your dentist will generally begin by asking about your medical and dental history, current or previous complaints and cosmetic goals.
When you visit Gaetz Dental, our team will ensure that you feel comfortable and informed. Dental exams are vital to discover any oral issues early on. Early treatment and diagnosis will make dental problems easier and more affordable to fix!
Next, a visual examination, followed by a full set of X-rays will be used to detect:
Gum recession
Weakened dental restorations such as fillings, crowns, or bridges
Tooth decay and cavities
Tooth deterioration due to bruxism, misaligned bite, or TMJ
Additionally, your dentist will perform a digital and visual examination of your lymph nodes to identify pain, cysts, and abnormalities that might indicate the presence of a disease.
Your gums, tongue, lips and other internal areas of your mouth will be examined for early signs of disease or medical conditions such as:
Diabetes
Blood pressure
Leukemia
Systemic disorders
Oral cancer
Sinus problems
Cardiovascular problems
Immune abnormalities
Once all the assessments have been completed, each tooth will be examined one by one for chips or cracks that may cause pain. During this time, we will check existing restorations and analyze the condition of your tooth enamel.
We will discuss the findings with you and work closely with you to create an individualized treatment plan. This will consist of immediate needs, preventive measures and can potentially involve cosmetic procedures.
Schedule Your Comprehensive Exam Today!
A comprehensive oral examination in Red Deer, AB T4N 3S8 is an essential component of preventive dentistry. We recommend this procedure for all of our new patients. We also recommend all patients schedule a comprehensive oral examination every five years. Your comprehensive oral examination allows us to determine your needs and create a personalized dental treatment plan to ensure a lifetime of good oral health.