Complete and Partial Dentures Near You
Tooth loss can occur for a variety of reasons. Whether periodontitis, disease or poor dental hygiene has caused you to experience tooth loss, dentures are likely a suitable option. Get your dentures in Red Deer, which are removable dental appliances for missing teeth and surrounding tissues.
The two types of dentures available include complete and partial dentures. Complete dentures are used when a patient is missing all of their teeth. Partial dentures are used when a patient has some missing teeth and natural teeth remaining. Not only do partial dentures serve to fill in the gaps left by missing teeth, but they also prevent adjacent teeth from shifting out of place.
A complete denture may be conventional or immediate. In the case of a conventional denture, the patient will have had all of their teeth previously removed. A period of 4 to 6 weeks is required after tooth extractions to ensure proper healing of the gum tissue. The patient will not have teeth during their healing period.
On the other hand, immediate dentures are pre-made and placed immediately after tooth extractions. Your dentist will wait to make adjustments to the immediate dentures until the tissues have healed. Dentures in Red Deer are extremely durable and long-lasting. With the proper care, they can last several years.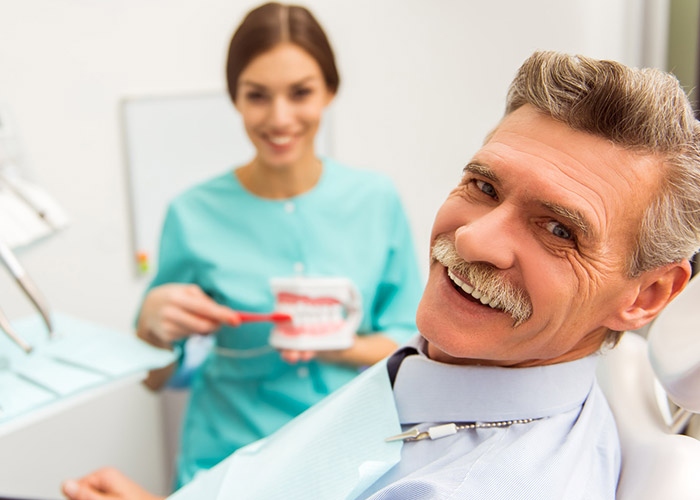 Reasons for Receiving Dentures Near You:
To completely replace missing teeth in an arch.
To replace some missing teeth in an arch.
To enhance the smile and provide facial support.
To restore chewing and speech.
To improve digestion.
Interested in receiving dentures near you? Please contact our office to learn more or to schedule a consultation.
What is the Process of Getting Dentures in Red Deer?
The process for getting dentures will take multiple appointments at your dentist in Red Deer, AB T4N 3S8 to complete. During your first appointment, precise impressions and measurements will be taken for the fabrication of your custom-made dentures. Once the dentures in Red Deer have been created, your dentist will assess their fit, colour, and shape during a "try-in" appointment. Your dentist will adjust and place the dentures for a comfortable fit at your final appointment.
Your dentist will provide you with at-home instructions for your new appliance. The life expectancy of your new appliance is highly influenced by how well you clean it, your oral hygiene habits and the maintenance of dental cleanings and check-ups with your dentist in Red Deer, AB T4N 3S8.